Wedding

Thinking about an outside wedding ?
I have been told that our web site is just too big and overwhelming for a customer trying to plan a simple home wedding. So I am going to try and rectify this.
I have no idea how I am going to do this, so we will just see where it takes us.
A small wedding at home can be a very special time, the longer the bride has lived at this home the more meaning it will have. I remember well a very special wedding in Waycross, Ga.
a number of years ago. The family purchased the house in a new sub-division when the bride was three months old, they also acquired the lot next door. The vacant lot next door was planted in grass and kept mowed. It became the hangout for the neighborhood kids, a sand pit and swings were added over time.
When it came time for the daughter to be married, she would consider no other location for the event. We took down the swings, mowed the grass and put up the tents.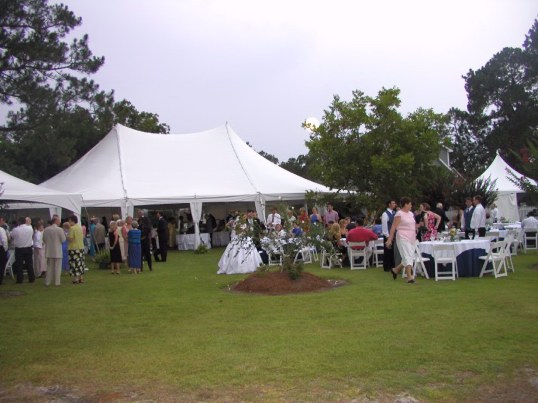 A typical home wedding would use a 40x60 tent. A dance floor and stage for a band or DJ.
Food buffet works well under an additional 20x20 tent. In the picture on the left there is also
a kitchen tent.
You are having a "garden" wedding and not a "tent" wedding. Tables and chairs outside are great.
09-10-12 I will keep adding a little each evening.
I am still thinking
09-23-12
Still thinking. busy right now.
So we can say, "first things first" and what is the first thing to do when planning a wedding? of course selecting the groom is of utmost importance.
I am going to assume this has been done and now move on to the date of the wedding. Time of year is important for an outdoor wedding, Weather.com, NOAA ( www.noaa.gov/ ) and other Internet sites have great information about high and low temperatures in your area for particular dates, don't worry too much about rain. The chances of it raining during the hours of the event on that certain date are slim. Check on sunset and civil twilight, remembering to adjust for daylight savings time, write this down. (aa.usno.navy.mil/data/docs/rs_OneDay.php)
Next what else if going on that day, sports games, homecomings, graduations, other weddings?. If you live close to a large town such a Tallahassee certain activities can tie up every motel room within 100 miles.
A close friend with whom you share mutual friends should not be getting married on the same day. This can be quite awkward for all involved with both weddings. Be sure to ask photographers, caterers, florists, folks like us and just anyone you talk to, if they are aware of any other events on your first choice date.
09-26-12 Under construction. Ken
Seating,
For the ceremony I would suggest seating for 80% of the expected guests, I have never seen all the seats filled at the ceremony. Many of the single men like to stand
at the back in case it is contagious.
For the reception a lot depends on whether you are serving alcoholic beverages. If you are serving just beer and wine, or even a full bar, less seating will be required.
When there are no drinks the guests will migrate right to the food area, so you will need tables and chairs for all the guests. If a bar is offered many guests will have a social
drink and not think about food until later, seating for less than half the guests will be adequate.
Now if you are having a plated meal then all the guests need to be seated.
Ken 12-8-2012